Nurse Clinics at New Lodge Vets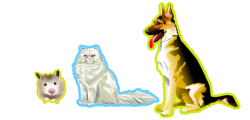 We have an excellent team of dedicated caring Veterinary nurses. Our nurses carry out a variety of nursing clinics. Appointments can be booked with a nurse for the following;

Weight and nutritional clinics
Established in 2006, the "Fit for Life Club" is available to all registered clients at New Lodge Veterinary Centre. The "Fit for Life Club" is designed to help pets who are over weight to lose weight and gain a healthier and fitter lifestyle. Cats, Dog's and Rabbits can all benefit from this service
Each patients needs are assessed individually and a personalised and targeted program is designed that takes into account the pets age, current and target weight, body condition score, pre existing medical history and lifestyle.
The nutritional requirements of Puppies and Kittens differs greatly from that of adult animals. The range of pet foods for your animal can be very confusing. We believe that feeding high quality balanced pet food from weaning will give your pet the best start in life, with that in mind we stock a wide range of Royal Canin Vet Care Nutrition diets, designed to take into account your pet's individual needs.
Worming & flea checks
Puppy and kitten worming + flea checks are free of charge to registered clients here at New Lodge Veterinary Centre. We find that animals not only benefit from regular effective worming but enjoy coming to see us on a regular basis for treats and cuddles. Helping to establish the vets as a place of familiar friendly excitement, and not a place of fear and dread.
Adolescent clinics
Animals need's change as they grow and our adolescent health checks are offered to help with life's growing pains. They include topics such as training, behaviour, nutrition, weight management, flea and worming prevention.
Post neutering clinics
When pets are neutered, hormonal changes occur causing your pet's metabolic rate to fall, which can lead to your pet gaining weight. We believe prevention is better than cure so post neutering weight checks are free to all pets neutered at New Lodge Veterinary Centre. Three months post neutering we invite you to bring your pet back to New Lodge for a free weight check with our nurses. Small changes are usually all that is required to help your pet have a happy and healthy life.
Claw clipping
We offer appointments for claw clipping for Cats, Dogs and small mammals. Please let us know if your pet is wriggly and we can arrange two nurses to help.
Post-Op checks & stitch removal
Our nurses take care of all our routine post op checks and surgeries, but have the back up of our vet if further treatment is required.
Sexing of small animals
Worried that two small pets will develop into many more? Our nurses will be able to help you find out if Joe or Joanna is more appropriate!
Microchipping
Microchips provide permanent identification if your pet escapes or is stolen. The number along with your contact details is stored on a computer database meaning you can be contacted if any vets, dog warden, police station or animal rescue home finds your pet.
Our quality easily readable microchips are implanted by our qualified veterinary nurses and registered with the national microchip database. The microchip is about the size of a grain of rice and is placed under the skin.
Senior pet clinics
Research over the past few years has shown that the ageing process can affect cats' and dogs' health once they reach 8 years of age and their dietary requirements change. The effects of this process can often be subtle, but can be picked up at an early stage; giving you the opportunity to maintain your pet's quality of life with our help and support. Topics such as nutrition, weight management, mobility support and early detection of age related issues are covered during the appointment.
We want to raise awareness of conditions, such as arthritis, in animals and reassure owners that pets do not have to live in discomfort as they get older. Weight changes, coughing and excessive drinking can all be signs of underlying medical conditions relating to ageing. Coming into the Veterinary Centre would allow our qualified Veterinary Nurses to discuss preventative health care for your pet, discuss any concerns you may have and help you keep your pet healthy for longer.
A consultation at the clinic lasts 20-30 minutes and includes a urine test (If collected at home). Please note that this is a free discussion with one of our Qualified Veterinary Nurses on senior pet healthcare, not for any other problems or ongoing conditions.
We will ask you to complete a Senior Pet Questionnaire and bring it with you to your appointment. If you are able to please could you collect a fresh urine sample and bring that along to the appointment also. Urine sample pots are available to collect free from reception or a dry clean container will be fine.
Worming / Medicine admin
Worming your pet is very important and should be performed at least every 3 months. The procedure can be made less stressful by getting a veterinary nurse to give the tablet! They can also teach you all the tricks to be able to tablet them yourself.
Dental examination & advice
Dental disease is one of the most common problems with adult and older animals. Damaged teeth and infected gums can trigger kidney and heart disease, not to mention mouth pain for your pet. Tooth brushing significantly reduces the occurrence and helps keep your pet's mouth healthy. Kits are available from the Veterinary Centre and advice on how to start can be obtained from our nurses, including a demonstration on your own pet. Training your pet to accept brushing as part of their routine takes patience and you should always introduce this slowly and reward good behaviour. Make it fun, enjoy the time spent together!
Dental diets are also available; they are formulated to help maintain dental health when brushing isn't possible. Our veterinary nurses can help you with the ongoing care of your pet's teeth. We recommend the use of dental chews no more than once weekly due to their high calorific value.
Looking for a vets in Peterborough or Northants?
THEN CALL US TODAY on 01832 270201 TO GET A QUOTE FOR TREATMENT, FOR A PERSONAL TOUR, or TO REGISTER YOUR PET