Pet Insurance Advice & Products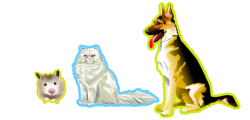 Do I Need Pet Insurance?
We strongly advocate pet insurance to cover unexpected expenses resulting from accidents or illnesses. Medical and surgical treatments for pets are becoming more sophisticated and diagnostics such as MRI scans, reconstructive surgery and oncology treatment are now available. It's important to be aware that not all pet insurance policies are the same. Don't just shop around on price alone. Some policies limit the amount of time or money that you can claim for.).
How Most Policies Work
In general, pet insurance policies do not provide cover for routine preventative treatments such as vaccinations, worming, flea treatments and elective neutering operations including caesareans. In fact, some insurers may not cover diseases that can be prevented by vaccination if your pet is not primarily vaccinated and has their boosters or not received regular veterinary health checks once a year. Some insurers now even ask the weight of your pet especially with regard to orthopaedic claims. Some insurers will cover for dental accident i.e. fractured teeth but generally will not cover for routine preventable conditions such as scale and polishing of teeth under General anaesthetic.
Insurance cannot be taken out for pre-existing conditions even if they have not been the subject of a claim in the past. Most companies have an initial 14 day cooling off period for illness unless the animal is examined by the vet when the insurance is taken out i.e. by an insurance approved vet. Claims could be rejected or reduced if false information is given or failure to disclose all relevant information when a claim is made. Some polices will not provide cover for congenital, hereditary, dental and behavioural conditions.
Some insurance companies require you to notify them before treatment for a condition starts and they may place limits on where you will be able to get your pet treated in an out of hours emergency.
Most policies that cover dogs importantly include public liability insurance, which is becoming increasingly important as you are legally responsible for the actions of your dog. Cats are considered free roaming and therefore you are not legally responsible for any damage caused by them.
The Role of New Lodge
At New Lodge Veterinary Centre we do not deal with direct claims to insurance providers, our policy is to receive payment at time of treatment and then aim to complete the insurance form within 7 days of receiving the claim form to enable you to reclaim the cost of treatment promptly.
We scan all claim forms to our records and keep a record on our computer system of any claim made. This information may have to be released to insurance companies on request. We ask that completed claim forms are collected from reception after their completion, and will not post them.
Whatever company your pet may be insured with, we complete our part of insurance forms for a small fee, whether digital or paper.
Broadly there are three main types of pet insurance:
1. Time limited policies
Time limited policies (also known as annual insurance policies) provide cover up to a maximum amount per condition and cover is not available after 12 months for the condition claimed. So long term illnesses such as diabetes or arthritis would be excluded after 12 months from the start of the Illness. This cover is usually the most inexpensive and widely available cover. It tends to have the least amount of benefits.
2. Maximum benefit policies Cover
with these policies is provided up to a specified amount per condition but there is no time limit for how long you can claim. The remaining benefit reduces each time a claim is made for that condition until the amount is exhausted. This can take years or a much shorter time period if extensive treatments are required i.e. Orthopaedic repair of a leg after a road traffic accident. After the maximum cover amount is reached (levels vary with the insurer and policy chosen) you cannot claim for any ongoing treatment that may be required.
3. Lifetime cover policies
Lifetime or 'Covered for life' policies provide a set amount for veterinary fees each year which is renewed at the start of each policy year. As long as you continue to pay the premiums and renew the policy without a break in cover, there is no time limit for claims for each illness or injury. This cover is ideally suited to problems which are long term and require ongoing treatment. This sort of cover is usually the most costly but provides the most benefits.
Additional insurance costs
There is usually an excess to pay for a claim on a new condition or at the start of a new year's policy for lifetime cover. Some insurance companies also take a percentage of the claim, and this may depend on the age of the animal and the type of policy.
Pet insurance generally can be taken out from 6 weeks old up to 8 years although this may be affected by the breed of dog. Some insurance companies do provide initial cover for older animals, although this is quite rare and some of these policies can be quite limited in their scope. Pedigree cats and dogs generally are more expensive to insure than cross breeds, and insurance costs can vary depending on the breed and size of dog. Insurance premiums can also vary according to where you live, age of your pet and previous claims history.
Please carefully read the terms and conditions that are available before you take out an insurance policy for your pet, some providers may have lower premiums than others but do they cover what you require or have adequate benefits? It is important that you get the best insurance policy within your means with the best cover available, because once you claim you will not be covered by another insurer for that condition, even if you decide to change insurers.
Insurance Regulation
Pet insurance is regulated by the Financial Conduct Authority. This legislation is designed to protect the consumer and prevent mis-selling. We are not able to comment directly on any particular insurance policy or insurance provider.
RSA underwritten Insurance policies
In late 2015, Royal Sun Alliance (RSA) pet insurance underwriters who provide /underwrite policies for Tesco, More Than, Argos, John Lewis, M& S Pet insurance, introduced a preferred list of referral practices that owners are normally obliged to use as a condition of their pets policy.
This may restrict the choice of specialist veterinary referral centres for the policy holder as there may be a potential additional £200 insurance referral excess fee if the preferred referral practices are not used. The £200 referral deduction is in addition to any policy excess that may apply depending on conditions that apply in the insurance policy.
Policies underwritten by the RSA Group which have clauses that include the £200.00 referral excess are Tesco, More Than, and Argos (correct at time of writing).
Please note that the present list does not include the 2 specialist referral practices (Davies and Willows) that we would normally recommend to clients, and who we have built up strong working relationships with.
The Practice believes every patient should be treated and evaluated as an individual. We believe clinical decisions should be the primary factor for you and your Pet when selecting the most appropriate Referral Centre for your pet's needs.
The Practice will continue to recommend referring dogs and cats to the referral practice it deems as best for your pet. The obligation is on you to inform us if you are insured with an RSA underwritten policy including but not limited to Tesco, Argos or More Than, M&S, or John Lewis. And for you to liaise with your insurance company prior to any referral decision with regard to whether the £200 fee applies, or if you wish your pet to be referred to the network of RSA listed referral practices that your insurance company can provide details on.  The Practice can provide information for you to help you with your discussion with your insurance company.
For those clients who wish to discuss their choice of preferred referral provider with RSA, help lines have been set up.
More than Vet Referral Helpline 0330 100 6445
Tesco Bank Vet Referral helpline 0330 100 6460
Argos Pet Claims Referral helpline on 0345 078 7500
Looking for a vets in Peterborough or Northants?
THEN CALL US TODAY on 01832 270201 TO GET A QUOTE FOR TREATMENT, FOR A PERSONAL TOUR, or TO REGISTER YOUR PET