Emergency Vets Service for registered clients at New Lodge Vets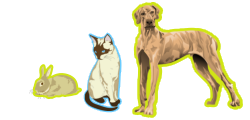 Emergency visits
In the case of an urgent problem during the day, it always best to telephone the veterinary centre on 01832 270201 to let us know you are on your way and you will be seen as soon as possible on your arrival. Our reception is open from 8.30am to 6.30pm Monday to Friday, 8.30am to 12.45pm on Saturdays.
Outside normal hours
If you are concerned about your pets health outside of our normal opening hours and you are a registered client, please telephone our normal number of 01832 270201.
Outside surgery hours New Lodge Veterinary Centre provides 24-hour emergency service, in line with the requirements of the Royal College of Veterinary Surgeons. This service is run by our own team and is based at New Lodge Veterinary Centre, if it is necessary that your animal is seen by the vet out of hours.
We feel it is important that clients do not have to travel to an unfamiliar vets at what can be a very stressful and upsetting time for both owners and pets.
Home visits
We consider that treatment at New Lodge Veterinary Centre will usually be in the best interests of our patients and provide our best standard of care because of the equipment, facilities and wide range of drugs at our disposal.
Home visits are available only where they are deemed clinically necessary or appropriate by our vet after evaluating the case based on your description of the animals physical condition, and the patients appropriate care. Any out of hour's emergency home visit requires two members of staff for animal handling and for health and safety reasons, and so transporting you pet to the surgery may prevent a possible delay in treatment. Some patients seen out of hours will require hospitalisation for further treatment and diagnostic testing, which we are unable to offer whilst on home visits.
Not registered
If you are registered at another veterinary practice, it is essential to contact them in the first instance or their designated out of hours service provider, as they will have access to your pet's clinical history, current health status and be familiar with you and your pet.
If your pet is not registered with any veterinary practice, we are happy to register you and your pet but may charge a premium for doing so.
The emergency process
The on-call Veterinary Surgeon is reached by a mobile phone. The mobile number is in the message on the surgery phone system when the veterinary centre is closed. Please telephone the mobile number to contact our vet on call in cases of genuine emergency.
Please note that the vet on call may be busy with another emergency or be in an area of sparse mobile coverage and in the unlikely occurrence of our vet not returning your call within 10 minutes, please contact us again and leave a message with your details and your pet's emergency. If using a mobile phone, please ensure the number is not blocked as this may result in us being unable to contact you.
The on-call Veterinary Surgeon will be working the next day, so if you are worried about your pet it is much appreciated if you telephone as soon as possible rather than waiting to the early hours.
There are additional charges for emergency consultations outside of normal hours, and they vary with time of day or night. Please note fees are payable at time of treatment. Up to date information of our charges is available on prior request.
Looking for a vets in Peterborough or Northants?
THEN CALL US TODAY on 01832 270201 TO GET A QUOTE FOR TREATMENT, FOR A PERSONAL TOUR, or TO REGISTER YOUR PET