Veterinary Services at New Lodge Vets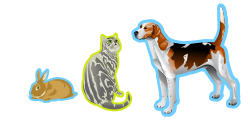 Informal advice
We are happy and able to give general advice both in person and over the telephone, but may suggest that your pet may need a detailed consultation including physical examination with our vet to try to help resolve any problems they may have.
Reception
Registered Clients whose pets have been examined by us in the last year may collect wormers, food, flea and tick treatments, and other sundries without bringing in their pets. Reception is open to help with veterinary services enquiries, book appointments and take registrations:
Weekdays
8.00am to 7.00pm
Saturdays
8.00am to 1.00pm
NB. We are closed on Bank holidays and Sundays
Vet consultations
Consultations with the Vet are by appointment only to ensure we have dedicated time to spend with you and your pet and that we keep waiting to a minimum. We accept booking by telephone on 01832 270201 or in person at reception in advance.
Weekdays
9.00am to 10.45am
4.00pm to 6.45pm
Saturdays
9.00am to 12.45pm
Nurse consultations
Weekdays
8.30am to 10.00am
2.45pm to 3.45pm
4.30pm to 6.15pm
Saturdays
9.00am to 12.45pm
Our nurses have their own dedicated room for nurse appointments, their veterinary services include:
Admissions for surgery
Post operative checks
Anal gland emptying
Nail clipping
Nutritional and Weight Clinics
Adolescent and Senior Health Checks
See our Nurse Clinic Page for further details.
Operations & hospitalisation
Routine elective surgeries, diagnostic x rays, ultrasound examinations and dynamic blood tests are carried out between 10.30am and 3.00pm Monday to Friday. Obviously some surgeries are not routine. See our Operations Page for more information.
Home visits
Home visits are available where they are deemed clinically necessary or appropriate by our vet after evaluating the case based on your description of the animals physical condition, and the patients appropriate care. Any out of hour's emergency home visit requires two members of staff for animal handling and for health and safety reasons, and so transporting you pet to the surgery may prevent a possible delay in treatment. Some patients seen out of hours will require hospitalisation for further treatment and diagnostic testing, which we are unable to offer whilst on home visits.
Behavioural advice
Behavioural advice is given on an individual basis during one to one consultations with Zoe initially for general advice. For more in depth help and advice we refer clients to a qualified behavioural counsellor .Who is a full member of the Association of Pet Behavioural Councillors and an ASAB Certified Clinical Animal Behaviourist. We feel that it is very important that behavioural advice is given by qualified regulated persons of a professional body, who visits the pet in their own home, works with owners closely to understand their animal's behaviour and offers professional ongoing support.
Feline behavioural issues can be quite complex and some can result in physical signs and symptoms which may require medical treatment. Please ask us for advice.
Worming
We recommend that you worm your pet regularly not only to protect your pet but also to prevent potential spread to humans, especially children. Here at New Lodge Veterinary Centre, we have specific guidelines to ensure your pet remains worm free.
Please speak to a member of staff about the tailored efficacious worming regime for your pet and also see our Worming Page for more advice.
Vaccinations
As responsible pet owners, we know you would like to ensure that your pet is vaccinated against preventable diseases. At New Lodge Veterinary Centre, we use a vaccine regime that maximises vaccination component duration of immunity intervals and we offer a complementary health check at the same time. We recommend that all puppies and kittens receive a primary vaccination course followed by annual booster vaccinations. See our Vaccinations Page for more information.
Dentistry
Bad breath (Halitosis) can be a sign of underlying disease and should always be checked. Veterinary treatment can normally help to alleviate the problem. A full visual oral check up is included with every dental examination and treatment. Our dental treatments take place under general anaesthetic monitored by our nurses and performed by Zoe our vet. Our equipment and training allows us to help you keep your pet's smile in tip top shape. See our Dental Health Page for more information.
Neutering
We recommend neutering most pets unless you wish to breed from them.
Cats
We advise that most cats can be neutered from 4 months old, especially as female cats may become pregnant very young, even before 6 months of age.
Dogs
We would aim to neuter female dogs 3 months after their first season, at maturity but early adolescent neutering is also available depending on breed.
We offer free of charge pre-spay checks to ensure that your pet is ready for neutering, as female dogs may develop false pregnancies due to normal physiological hormonal fluctuations. These hormonal changes can result in mothering behaviour and milk production which may persist for some time.
We recommend neutering as entire female dogs are at greater risk of uterine infections and mammary tumours with repeated seasons and increasing age. Uterine infections can result in lasting severe kidney damage and may require emergency surgery and treatment.
For male dogs, we like them to benefit from maximum growth before neutering so depending on breed from six months to one year old is our recommendation. However early neutering depending on breed is available. We would not perform early neutering on giant breed dogs.
Rabbits
We advise that all female rabbits that are not intended for breeding are spayed at 3-4 months of age. This will prevent unwanted pregnancies and tumours of the uterus, both of which are very common in rabbits that have not been spayed.
Male rabbits can be castrated to help prevent fighting and urine spraying.
Neutering of male and female rabbits can be performed from 3-4 months of age.
Please ask to discuss neutering with our staff, if you have any concerns or questions.
Micro-chipping
If you want to make sure your pet is always identifiable and traceable then ask us about our micro-chipping service. Our quality easily readable microchips are only implanted by trained veterinary professionals and registered with the national microchip database. The microchip is about the size of a grain of rice and is placed under the skin between the shoulder blades, using a needle. The process is quick, relatively pain free and permanent. We can also implant microchips during routine general anesthetics, while your pet is asleep at reduced cost.
We scan all pets for a microchip on their first visit to us, every year at vaccinations, and all stray pets that are presented to us without an owner present. It is essential that your details registered to the chip such as telephone numbers and addresses is kept up to date, as this information enables you to become contacted if your pet becomes lost, stolen, or presented at a vets injured. These details for security, can only be changed by the owner contacting the registered microchip database directly.
From 6th April 2016, compulsory microchipping for all dogs in England will come into force by law. If a dog without a microchip comes to the attention of the authorities, its owner will be required to have it chipped, or face a £500 fine.
After 6th April 2016, Dog breeders will be responsible for microchipping their puppies before they sell them at 8 weeks or give them to new owners. Breeders will be required to register their own details and these will be recorded against the microchip number for the life of the dog, so that any breeding issues can be investigated. All imported dogs require a microchip as condition of entry into UK.
Pet Passports
We are able to prepare your pet for a Pet Passport including insertion of microchip, vaccinations, blood testing (if required), and worming treatment as required by the country of entry and then issue a Pet Passport. This is required, for entry to and return home from countries that are included in the Pet Passport Scheme. See our Pet Passport Page for more information.
Looking for a vets in Peterborough or Northants?
THEN CALL US TODAY on 01832 270201 TO GET A QUOTE FOR TREATMENT, FOR A PERSONAL TOUR, or TO REGISTER YOUR PET