Advice on Litter Training Your Pet Rabbit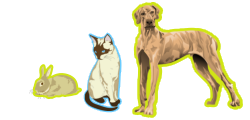 Rabbits make wonderful indoor companions in part because they can be litter box trained, just like cats! Follow these tips to try to litter train your rabbit.
Provide a small cat litter box with low sides and no top. You can also use a shallow storage tub. Cut a doorway in one of the sides if it's too tall, remember to smooth sharp edges.
For litter, use recycled paper litter such as Yesterday's News. You can get the larger bags made for cats, but choose the unscented version. This litter will neutralize any unpleasant urine odours. Do not use clay-based or clumping litter as this is harmful to rabbits' respiratory systems and may block their intestines if eaten.
Put a thin layer of litter at the bottom of the litter box- just enough to absorb wetness. As rabbits don't bury their droppings like cats, you only need to use a small amount of litter and you will be discarding the whole tray contents each time.
Rabbits like to eat hay and poop at the same time. So to promote good litter box habits, place hay either directly in the box over the litter or place it in a hay box next to the litter box. If you use a hay box, position it so the rabbit must hop into the litter box in order to reach the hay.
It's easiest to develop good litter box habits in rabbits by limiting their space at first. Use a puppy pen to confine your rabbit to one area, even if you intend to give him/her free reign of your home eventually. This allows your bunny to get acclimated to the area in the beginning. Once your bunny consistently uses the litter box, you can gradually expand the area. If your rabbit starts "forgetting" to use the litter box, then limit the space again until good habits resume.
Here are a few other tips for those stubborn, "outside-the-box" bunnies:
If accidents occur, mop up urine with a paper towel and pick up stray poop and place both in the litter box. This helps remind them that the litter box is the place that they should do their business. Keep in mind that rabbits are generally not 100% perfect with their litter box. Sometimes they leave a few droppings next to the box, or they urinate over the edge of their box. This is normal, so placing a plastic mat under their litter box or putting the litter box on a tile floor makes it easier to clean up these little mistakes.
Litter training takes time patience and persistence, especially if your rabbit has learned bad habits. It takes a while to retrain them. If you can see they're about to go outside their litter box (they may lift their tail or sometimes they sort of shimmy down in a seated position right before they go), try to pick them up and put them in the litter box or corral them in.
If your bunny is insistent on going in one corner of the room, sometimes it's easier to give in to their stubbornness, and place a litter box in that corner. Sometimes when rabbits consistently choose another place to go, they are trying to tell you that that's where they want to go.
If your rabbit is spraying pee all over the place, this is probably due to your rabbit marking his territory. Neutering your rabbit will help.
Looking for a vets in Peterborough or Northants?
THEN CALL US TODAY on 01832 270201 TO GET A QUOTE FOR TREATMENT, FOR A PERSONAL TOUR, or TO REGISTER YOUR PET